Travel makes one modest. You see what a tiny place you occupy in the world. – Gustav Flaubert
August 18, 2019 Greetings from London,
The flights from Savannah to Atlanta and Atlanta to London were non-eventful. That's the best thing you can say about travel these days. The entire world is on the move, and London's Heathrow is an amazing example of multiculturalism or the term I grew up with "a melting pot." Every language possible passed my ears as we waited for our driver, the one who was supposed to be standing right outside immigration with a large sign with our name on it but wasn't.
But it wasn't his fault that our flight arrived very early. We were scheduled for landing at 7:05 am with pickup at 8 but instead we arrived at 6 am. We didn't land right away as we had to circle the friendly skies numerous times before a group of people (awake enough to be useful) were found to guide our big bird into a gate. Then the many miles of walking to stand in slow-moving lines while observing cranky kids mimicking the attitudes of spatting parents—all through glazed-over jet lagged eyes.
We're finally safely ensconced in our apartment at 230 Vauxhall Bridge Road although our entrance is located on #1 Kings Scholar Passage in Westminster. I like the Kings Scholar address better as it sounds like something from a Harry Potter book. There are huge floor to ceiling windows in the living area and the bedroom so lots of light along with blackout curtains. Off to bed for a nap.
Three hours later, I wake up dreaming I'm falling off the edge of the world. Instead one end of the bed has collapsed. We assess the situation but decide it's manageable. Besides we're hungry, and we need to reset our body clocks by a long walk in the sun. Surprisingly, it's a beautiful day in London—warm, breezy and sunny. By Beaufort, SC standards it's on the cool side (around 70), but it's such a blessed relief for us after days and days of unwavering South Carolina heat.
We're food market fans, believing we learn best about people and a place through food. I've select Borough Market which is the oldest and largest market in London. It's a bit of a walk (Southwark) but it has a history dating back to 1014, certainly worth the challenge. (www.boroughmarket.org.uk)
Since our apartment is in Westminster, we're in the midst of all tourist attractions. Our little neighborhood is quaint and quiet. We stroll down Francis Street turn right onto Victoria Street and are confronted with the masses—all in stages various stages of selfies in front of Westminster Abbey, Big Ben, Houses of Parliament—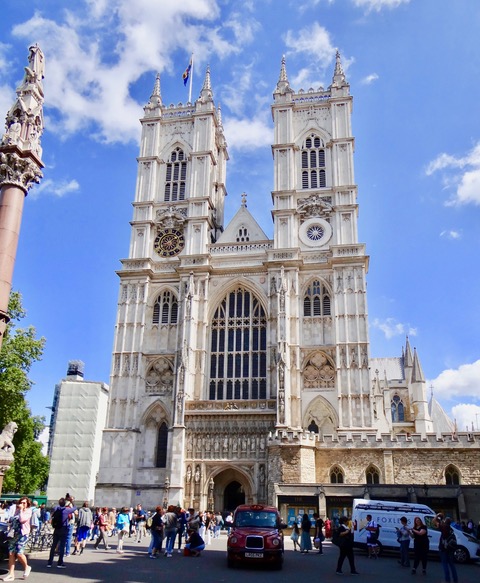 The one thing that immediately strikes me about London (other than it's another large, dirty, noise-laden city) is the contrast between modern and antiquity.
Sweet, very old pub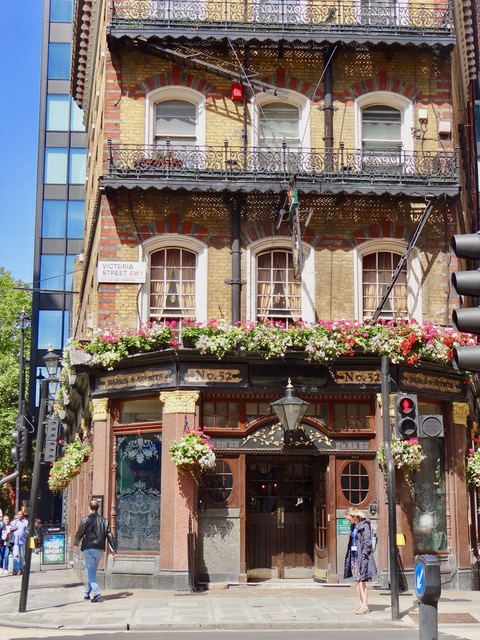 Surrounded by towering modern buildings and endless construction sites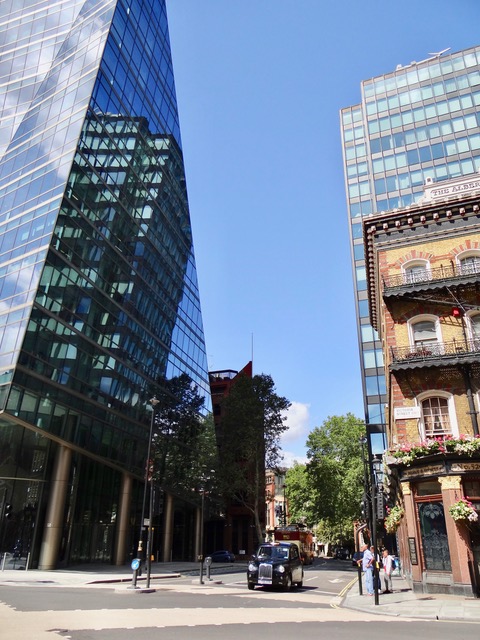 Our plan is to walk across Westminster Bridge to South Bank. The bridge is closed to traffic at the moment because of repairs. Although there are large signs asking pedestrians to stay on the sidewalks, the masses make their own decisions spilling into the road and construction paraphernalia. And, in spite of all the stunning architectural landscapes, all eyes are immediately drawn to Eye of London.

The Eye, the tourists, the construction all rolled into one package
This eyesore was built to celebrate the millennium. It opened to the paying public on March 9, 2000. It is Europe's tallest cantilevered observation wheel and (I'm astounded by this fact) is the MOST popular paid tourist attraction in the United Kingdom with over 3.7 million visitors annually. See the long lines waiting? Why is my only question?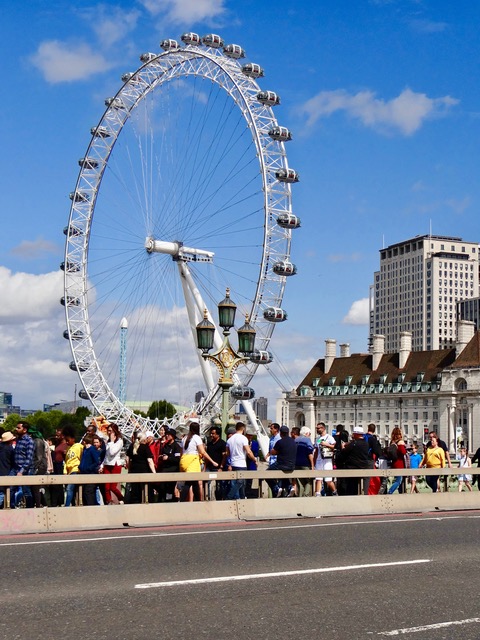 I needed to find beauty in all this and these lanterns catch my eye. They were placed along the bridge between 1739-1750. They've since been refurnished, retaining their beauty and the entwined initials of Victoria and Albert.
Once across the bridge, the streets are almost empty of tourists other than a few brave souls trekking to the market. Along the way we encounter more modern versus antiquity street fights
This unusual building is right outside the market. Later after much Googling, I found this snippet of information about the weird building.
July 28, 2017 – LONDON — Officially, it is 20 Fenchurch Street. To Londoners, it is the "Walkie Talkie," so named for its unique shape, with the building bulging out as it rises into the British capital's skyline.
On Thursday, the 37-story office block was sold to LKK Health Products Group, a Hong Kong-based company best known for making Lee Kum Kee oyster sauce, for 1.3 billion pounds, or about $1.7 billion.
The Walkie Talkie has not always been so highly coveted.
The building was criticized almost immediately after it opened in 2014. Rowan Moore, an architecture critic for The Observer newspaper, described it as "bloated, not elegant."
"It has no meaningful or enjoyable relationship to anything else, either at street level or on the skyline," Mr. Moore wrote at the time
Aside from its aesthetic qualities, the skyscraper also had practical problems. A permanent sunshade had to be installed after the concave shape created a focused glare that, according to complaints, reflected onto roads and damaged vehicles and buildings.
One journalist even managed to fry an egg in the heat
LKK said its purchase of the Walkie Talkie was the "largest ever transaction in the United Kingdom for a stand-alone office building." The healthy price tag suggests the skyscraper has earned acceptance — but it would not be the first time a much- maligned building had finally found fans.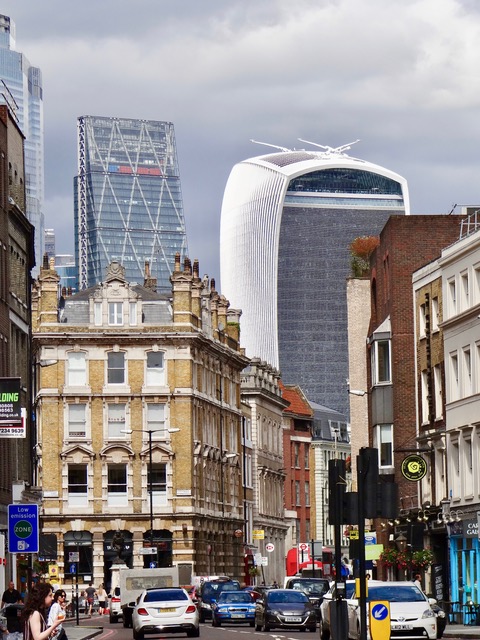 Finally we arrive at the market
We have only one thought—WATER then WINE and FOOD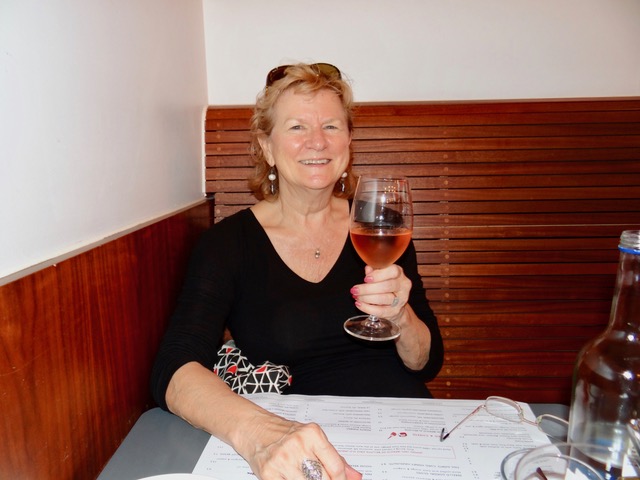 Still suffering from jet lag, but happy so be on solid ground with a glass of wine
I chose a Spanish restaurant—Brindisa—and the food's excellent. We ordered an array of tapas and ate until we felt civilized
Jambon croquetas—stuffed with ham, cheese, potatoes and deep fried to golden crispiness
Gazpacho – Andalusian style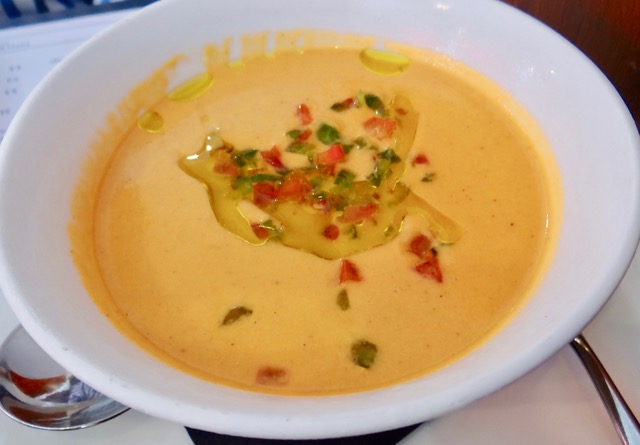 Gambas al Ajillo – the best shrimp, chiles and garlic infused olive oil – can you see it's still bubbling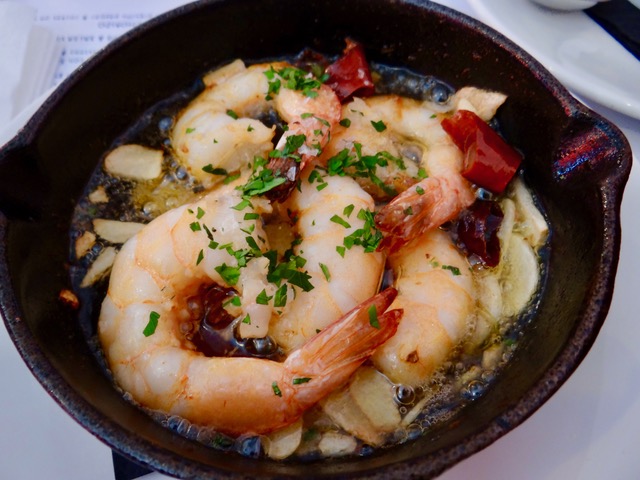 Crusty bread to sop up the chiles, garlic, olive oil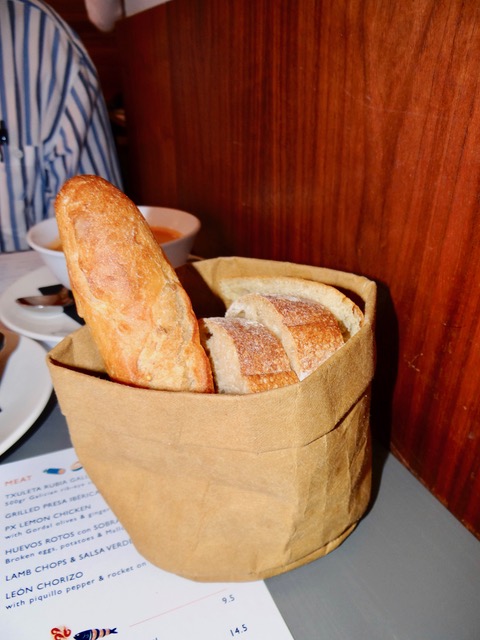 Grilled Galician Octopus with pea puree – absolutely divine – the texture and tenderness of lobster and the taste of the sea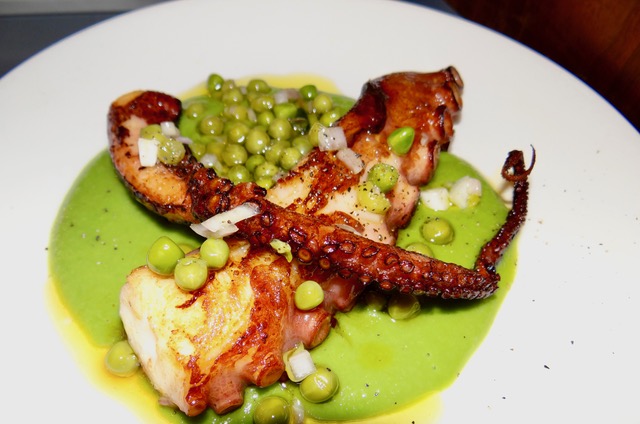 No room for dessert but ready for a walk around the market. It was a typical market with cheeses, meats, veggies, seafood. We bought a few items for tonight's dinner. The only unusual items (for us) were the fresh strawberries and asparagus—in August— but they had just been picked this morning.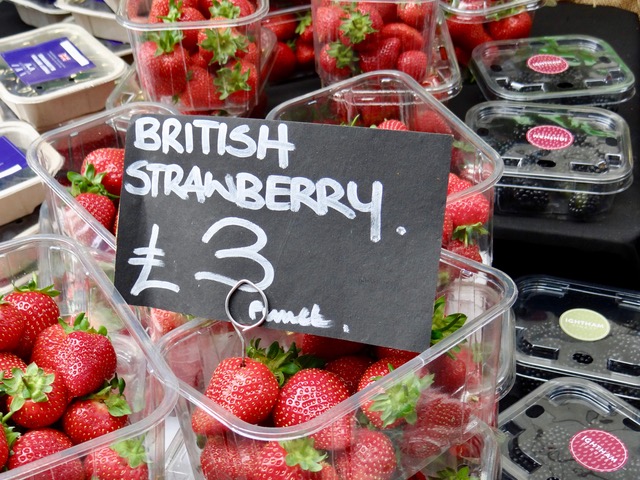 On the way back to the apartment Ray declares that I'm drill sergeant material, saying it had been a long time since he'd been on a forced march. We trekked over 7 miles. Ray is not a walker— in fact, he's still in bed as I write this at 8 am and we were asleep by 9 last night—so he's racking up 12 hours.
As we find our way to the center of London, the sky turns into big puffs of gray and the breeze picks up, making us glad for our jeans and long sleeves.
My first impressions of London are a kaleidoscope: There are street musicians everywhere: a bagpiper, steel drums playing Bob Marly music, a sax player with melodious strands of "Make the World a Better Place" filtering into thundering drums of the protesters on the street corners, in the parks—signs shouting "No more plastics" "save the animals" "stop trafficking our children" all waving in our faces along side selfie sticks and wild-eyed tourists, while double-decker buses barrel down on us because we aren't accustomed to the different side of the road driving yet —all against the backdrop of the River Thames—modern and antiquity side by side and not looking too happy about it—sullen as the sunny day fades.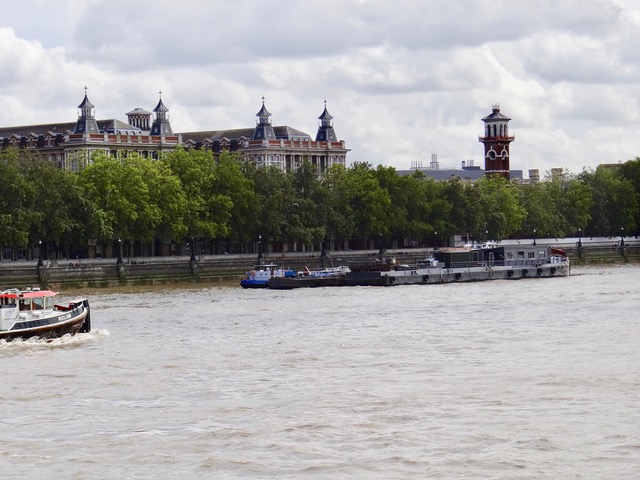 Cheerio from London
Donna
Every time you leave home,
Another road takes you
Into a world you were never in.
New strangers on other paths await. New places that have never seen you Will startle a little at your entry.
Old places that know you well
Will pretend nothing
Changed since your last visit.
— John O'Donohue / To Bless the Space Between Us