Life is for living and working at. If you find anything or anybody a bore, the fault is in yourself
~ Queen Elizabeth I
August 20, 2019 – Today the weather is unpredictable—rain and sun—off and on. It's chilly or maybe better words are brisk and breezy. It's a lovely change for us coming from 100 degree weather in South Carolina.
While I'm waiting for Ray to wake up, I watch the weather modulate back and forth several times outside our window—people in shorts and short sleeves, people with jacks and coats, and people wrapped in rainwear sporting colorful umbrellas. The weather reinvents itself faster than anywhere I've ever been.
We've chosen Patisserie Valerie for breakfast. It's the pastry shop we lingered over yesterday. It's delightful. Our waiter is from Brazil and shows us cell phone photos of his entire family. This is what we love about travel. For a while we thought he might pull up a chair and have breakfast with us. The day started off right with his smiles and his excitement that his entire family is coming from Brazil to see him.
Our first cappuccino—It was so large I thought it was a bowl of soup. The only other time we've had large cups like this was at our friends' house in Rome.
My uniquely designed cuppa
Ray's design
Ray ordered Eggs Royale (poached eggs on salmon and brioche) and declared them excellent
I had Smashed Avocado with one poached egg on 'bloomer' toast with grilled tomatoes and watercress. Yummy!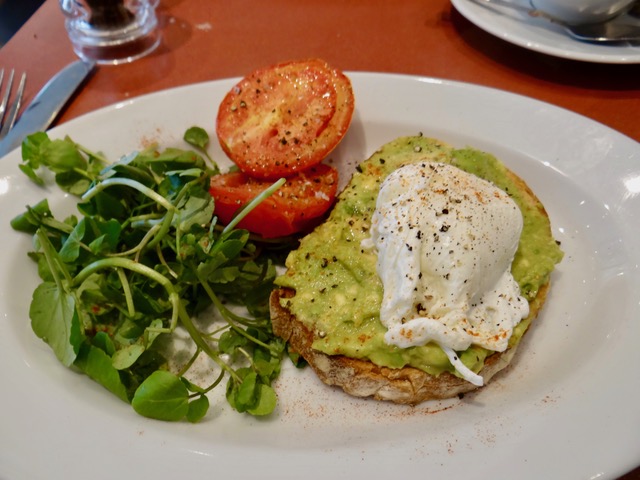 With full bellies we are ready to tackle our Royal Day Out. The only time the state rooms are open to the public are for ten weeks every summer when the Queen isn't in residence at Buckingham Palace.
Our Royal Day Out includes the Queen's Gallery, The Mews and the State Rooms. Tickets are timed and you cannot enter if you miss your time. Buying online before you come is so worthwhile. With tickets in hand, we are shuttled to the head of the line each time.
Our only disappointment was the Exhibit at the Queen's Gallery as it was Leonardo DaVinci's. It's a wonderful exhibit but we've seen in twice—once in Florence and once in Lucca. The Queen's Gallery is small. Exhibits are only switched twice a year. When we arrive at the gallery, the sun is out. After a quick review of all things DaVinci, we head to the exit. It's pouring so we wander off to the gift shop, marveling at the prices of Buckingham Palace souvenirs until the rain diminishes.
Next stop: The Mews. I actually thought Ray would enjoy the stables far more than I would, but I loved it. They stable about 30 horses but only a couple of the beauties are here today. Most are housed in other areas on the grounds as the constant flow of tourists is unsettling.
This is Riga at 17 hands—a very large Bay. These stalls are a holding area, indicating the horse will be taken out today probably by a member of the royal family
This was the main stable many years ago. Today it's only used for large events when many horses have to be stabled for large processions
The different carriages on display are amazing. There are over 100 available to be used—who knew you could have a different carriage for every different royal occasion that arises when you're Queen—there's also a stable of cars—3 Rolls-Royces, 3 Daimlers, 2 Bentleys and 2 Jaguar stretch limos.
I've included some of the carriages (not all 100) with a brief explanation. They're just too handsome not to share. Windsor Grays and Cleveland Bays pull the carriages.
Semi-state Landau – Queen Victoria's favorite means of transportation because the hoods open and she loved fresh air. Kate and William rode in this one after their wedding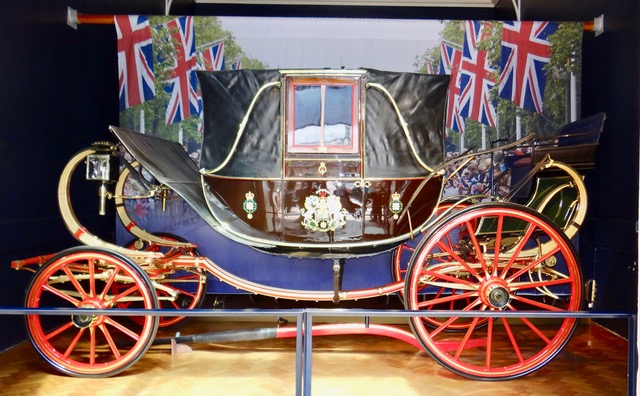 Queen Alexandra's State Coach – built in 1865—first used by The Prince of Wales then by King Edward VII's consort, Queen Alexandra. Since 1962 it carries the Imperial Crown on a cushion along with the Sword of State and is positioned in front of Queen Elizabeth's carriage during ceremonial processions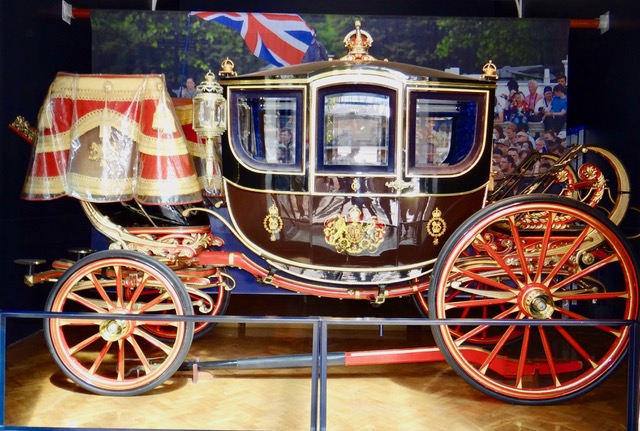 The Glass Coach – carried the Queen Mother to her marriage ceremony in 1923 (King George VI) and then it carried Elizabeth to her wedding in 1947. The name comes from all the continuous surround of glass panels. The interior is lined with blue satin. It is the second carriage in ceremonial processions behind the Queen's carriage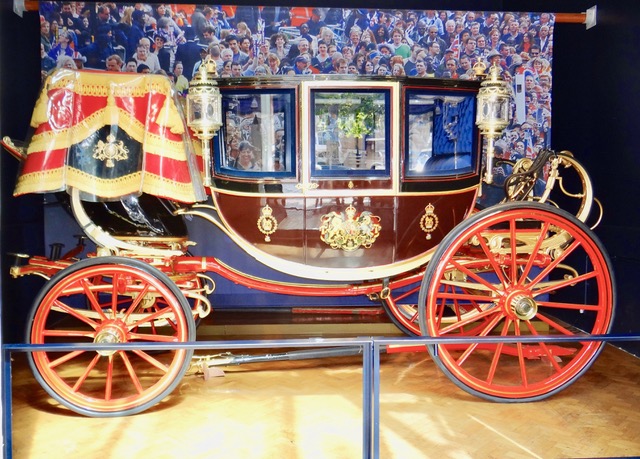 And the recently appointed royal couple—oh dear, I forgot my hat, gloves and purse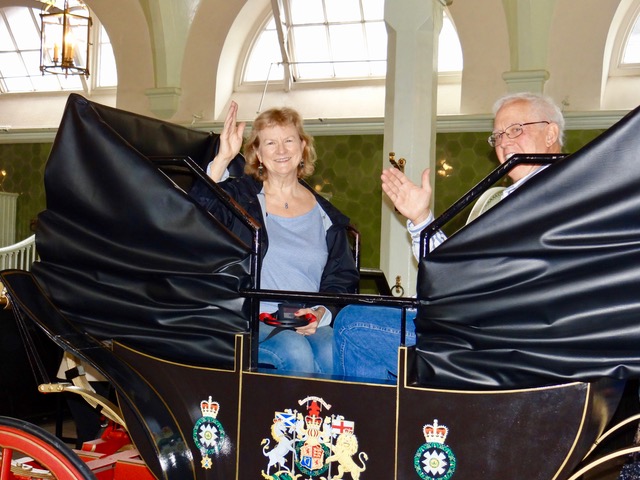 The Gold State Coach was last used by Queen Elizabeth on June 4, 2002 as part of the Jubilee celebration. It is magnificent
It's made of wood, leather and steel but it's heavily gilded. The front and back of the coach are decorated with gilded sculptures of four sea-gods, half-man, half-fish, called tritons, and the two at the front are blowing conch-shell horns. It is 7.3 meters long, 2.5 meters wide and 3.9 meters high and weights 4 tons. Eight horses are required to pull it.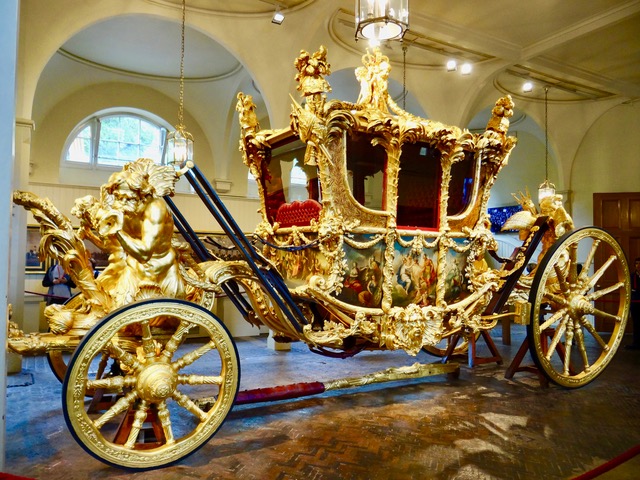 It's quite a major task to get it out when it's required for a procession. A false wall and a window have to be removed; then everything else in the area has to be cleared out so the coach can be turned 90 degrees and moved through a massive door. Preparing the coach for use takes approximately two and a half days.
The painted panels are by the Florentine artist Cipriani (1727-85) and they represent , metaphorically, the triumph of Britain over France in the Seven Years War.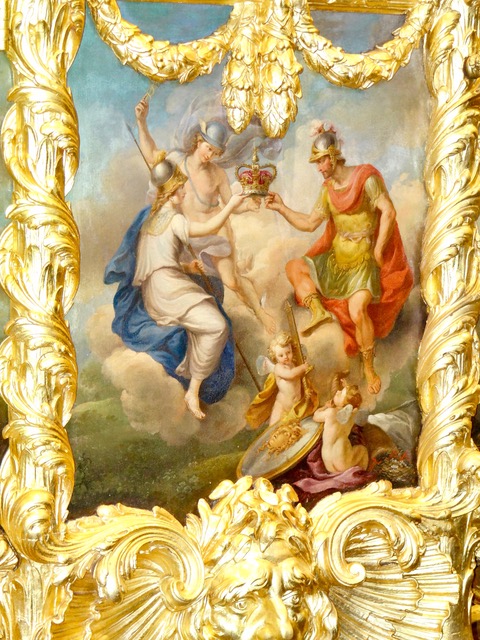 Although the Queen says the gold coach is a miserable ride, it is every little girl's fantasy. As I turn away from the golden Cinderella carriage, I catch a glimpse of a young girl's face when she see the carriage—her small arms stretch into the air as if to capture the moment, her face radiates with joy as she rushes to the roped area. She looks at her dad. He nods. She assumes a royal pose—a tiny fairy princess—a memory to tuck away.
We have enough time before our entry into the State Rooms for a glass of wine. We sit outside at a cafe on Buckingham Palace Road—the world passes in front of us. People stop and ask us directions—"Where's Buckingham Palace?"—in many different languages, we smile and point them in the right direction.
Now it's our time to queue. It's our third time through intense security checks—so necessary these days. There are palace attendants everywhere, always smiling, being courteous, answering questions, and not getting frazzled when a double-size stroller filled with babies, toys, food, rain gear, beverages, shoes and possibly live animals takes forever to clear the system.
The State Rooms are stunning. Of course, no photos can be taken on this tour of Buckingham Palace. The photos below are taken (without permission) from a souvenir book I purchased.
This first photograph is a diagram of all the rooms that were open to the public during this special time. I was surprised at how much we were able to see.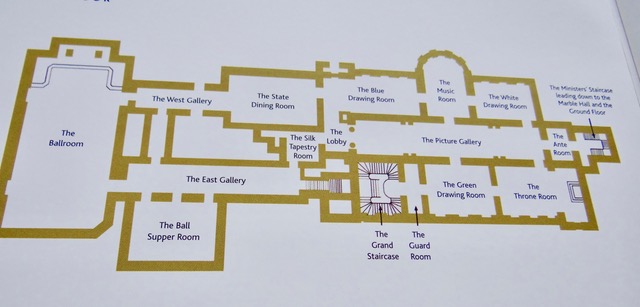 Even if you're not a fan of the TV series Victoria on PBS, take a look anyway and study the interior shots, the ones of Victoria traipsing down endless hallways and up grand staircases—yes, I know Victoria was filmed at the Wentworth House—but it still gives you a tiny idea of the grandeur of Buckingham Palace.
It's a spectacular climb—wish I wasn't wearing jeans—something with a train would be more appropriate
We pass through the Grand Entrance, entering the Grand Hall
—and sweep up the Ministers' Staircase. I can hear my name being introduced as I stand in the doorway in an elegant ballgown of emerald silk. The Queen waits at the head of reception line. Fortunately, it's only an image in my mind so I don't have to curtsy.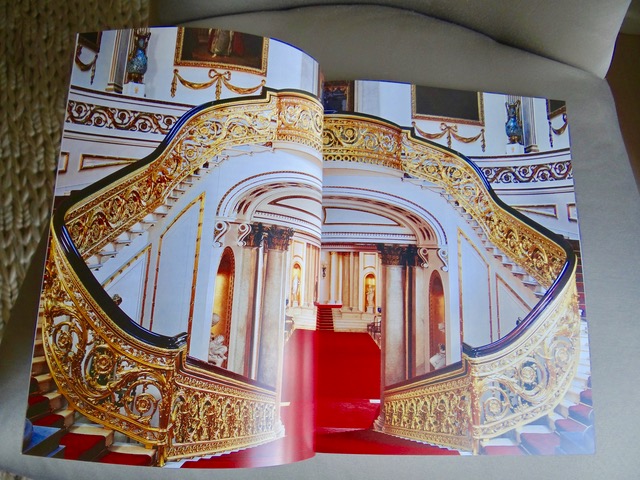 Can you see me at the state dinner—the green dress stands out
I was truly surprised at the large collection of famous paintings in the gallery: Van Dyke, Vermeer, Reni, Hals, Rubens, Rembrandt. My favorite in this gallery is a Rembrandt—The Shipbuilder and His Wife painted in 1633. It's my favorite, not only because it's a beautiful work of art, but because my ancestors (Scarborough) were ships captains from Norfolk arriving in America in the early 1700s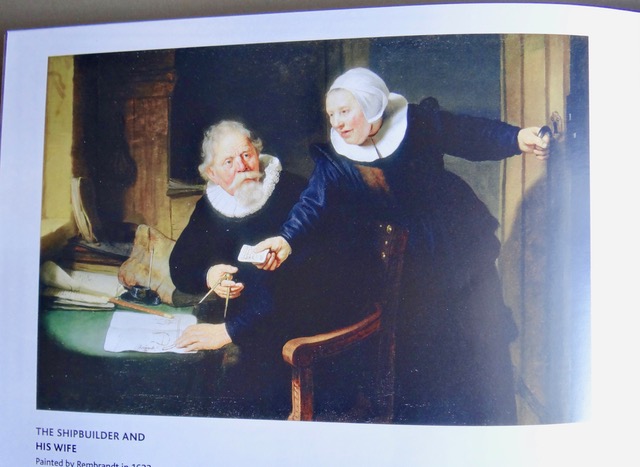 This was an exceedingly long day. We arrived back at the apartment around 5 and had dinner reservations at Tozi (Italian) at 6:15—just enough time to regroup and head out again—but fortunately only a short walk around the corner and what a treat we found.
TOZI is a Venetian slang word used affectionately to mean "a group of close friends" and good friends share great food. The restaurant plays on the words, offering small plates (like tapas) to celebrate the Italian concept of friends sharing food. Every morsel was fabulous—our waiter, Milco, was from Tuscany and our waitress from Puglia. Yes, it was a wonderful evening of sharing Italian stories and tasting small plates of divine food.
Wild Boar Sausage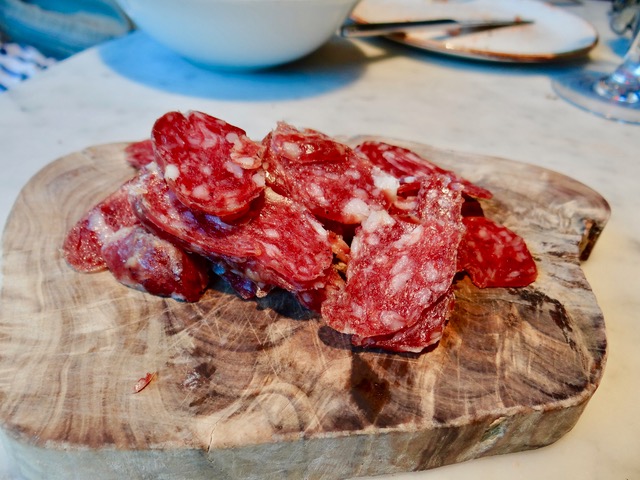 Crispy calamari that I almost devoured before remembering to snap a photo.
Pizzetta with tomato, bell peppers, mozzarella, and Tuscan sausage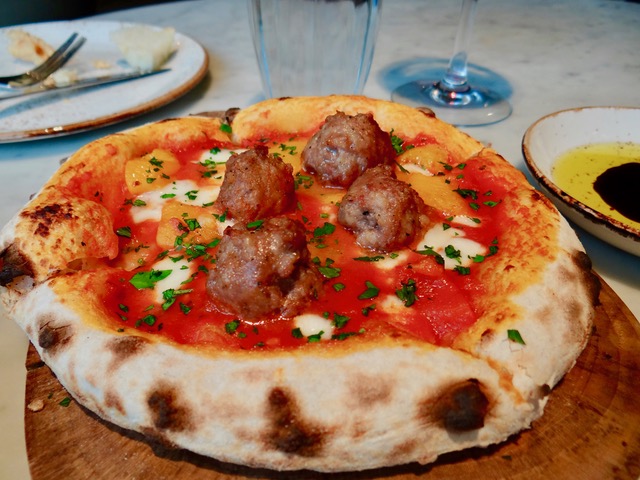 Maccheroni – rabbit & taggiasca olives ragout—tender chunks of rabbit, onion, garlic, tomato, and basil—wish I had ordered a giant size plate of this
And the final dish—roast potatoes and—
Miniature lamb chops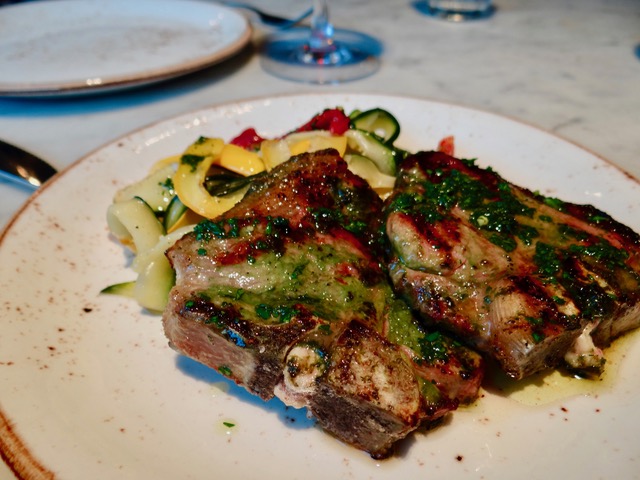 We waddled back to the apartment and fell into a food and wine induced sleep.
Tomorrow is our last day in London. We're just beginning to find our way around our neighborhood and finally have found the best ethnic restaurants. Normally when we travel we stay in one place—but we're on a different style of trip for us—lots of moving around until we arrive in Sicily in mid-September.
Until tomorrow at Westminster Abbey,
Donna
The Queen is the only person who can put on a tiara with one hand, while walking down stairs ~ Princess Margaret