PEOPLE DON'T TAKE TRIPS, TRIPS TAKE PEOPLE ~ JOHN STEINBECK
Travel adventures are just that—adventures. Some are educational, some whimsical, some disappointing, some grueling and some exceptional. With travel there's always this business with transportation—being shuttled to and from the place you really want to be.
After our wonderful stay in London, we flew out of Heathrow on Aer Lingus to Shannon Airport in Ireland. I'm sure I told you about the experience of having to weigh, ticket and heave-ho our luggage on the conveyor belt to get it checked. It was our very first experience with checking our own luggage. The flight was short (just a little over an hour). We had eaten a nice breakfast at the airport, had purchased bottled water and had books to read so we hunkered down on the plane, not requiring any services. Everything went reasonably well for a booked-to-capacity flight.
We booked with Aer Lingus again after our amazing stay in Ireland. We flew out of Dublin to Catania. And, yes, we had to weigh, ticket and heave-ho our luggage onto another conveyor belt. The point of this musing is that we are no longer young and this exercise is strenuous. I couldn't help thinking that in a few more years we wouldn't be able to physically do this—than what? I'm guessing this is the direction automation is taking us but so far Aer Lingus is the only airline that's embraced it (as far as we know). 
Fortunately we decided to eat lunch at the airport. The food was good and we had time to relax.  Once again we purchased bottled water and added a couple of snack bars. The flight to Catania is long (close to 4 hours plus there's a one hour time change). Our expectation was we'd have dinner on the flight since our arrival in Sicily was scheduled just before 10 pm. I had asked Connie if they served meals or snacks on Aer Lingus flights but she wasn't sure as she's only flown them from America to Ireland (and they serve food). She had not flown on any of their intercontinental flights. She also said she'd never had to check her own luggage on the transatlantic flights. 
A chilly wind was blowing with a drizzle as we braved the elements to walk across the tarmac to the steps of the plane—no covered walkway. The long slow process of people dragging carryons up steps in wind and rain. When the door slammed shut on the plane, the discomfort continued. We waited on the tarmac, no announcements from the cockpit or the flight attendants. Ray and I buried our head in our books, but people around us began to get restless. They needed the bathroom. That's when we discovered we had two prison wardens posing as crew members. People were turned away and herded back to their seats. When they pleaded with desperation, they were ignored or shushed like kindergarten kids.
Forty-five minutes later, we finally took off. Passengers raced for the bathroom but were once again told to remain in their seats. One man was in tears, pleading with the very large, non-smiling warden. His agony was visible. But no, she wouldn't listen. 
It was easy to see a quarrel was brewing—which added to the already intense discomfort of three seats abreast crammed together on each side and every single seat full. Then the wardens pulled two carts into the aisle. Everything had a price—you couldn't even get tap water for free. These two large wardens stomped up and down the aisle with carts, trapping the already miserable passengers in the small seats.
Ray and I had aisle seats across from each other as we've learned over the years you have a few more inches of space with these seats. We kept our heads submerged in our books, ate our snack bars, drank our water and focused on warmer climes waiting for us in Sicily.
Thankfully we had decided since we weren't landing until 10 pm, it would be better to stay at a hotel in Catania for the night and then pick up a rental car the next morning to drive to Marina di Ragusa. We also knew that we might have a problem getting transportation to the hotel. The hotels that looked reasonably nice didn't have shuttles so we needed to hire transportation but there wasn't any transportation for hire. That meant a taxi—so I Googled taxi companies only to discover they would charge us 87 euros to drive 5 kms to the hotel.
Manuel, our beautiful friend from Catania (now living in Columbia) came to the rescue. She called one of the taxi companies and discovered that there are legitimate and illegitimate taxis. She called me and told me what to say to determine which is which. Then she texted me with the words "Tariffa fissa, venti euro, vero?" 
This translates roughly into "fixed rate of twenty euros, true?" This Italian phrase was muttered under my breath over and over as our flight sloughed its way to Sicily. And it worked, the first taxi driver agreed to the 20 euros and deposited us at the Romano Palace Hotel on via Kennedy in a few minutes for this small amount. The desk agent was welcoming and the bellhop whisked our luggage away. At 11:30 pm we were sitting on the terrace outside our room, a glass of red Sicilian wine, warm breezes wrapping around our exhausted bodies. You can hear us sighing— 
We've been here for a week now. The laundry is done. The slow walks and long naps have restored us. If you weren't on this journey with us last year, I've included a few photos of Villa Chiara.
The terrace with a view of the ocean
A living room with a view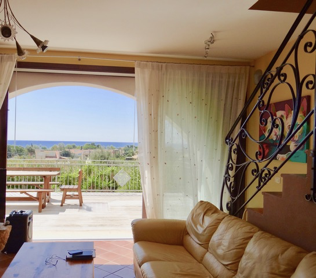 Our favorite room – la cucina and this one is spectacular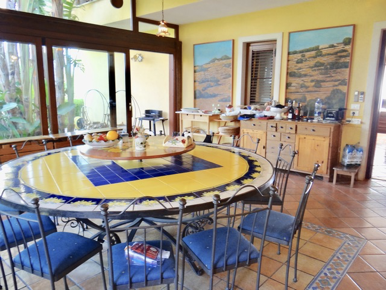 A place filled with flowers and sunshine and warm breezes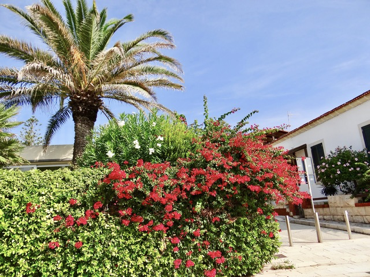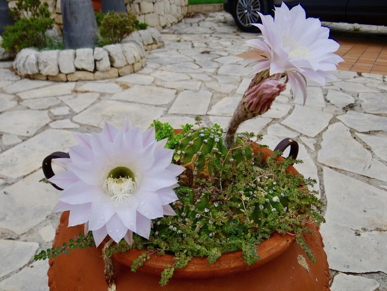 Olive trees in the yard waiting to be harvested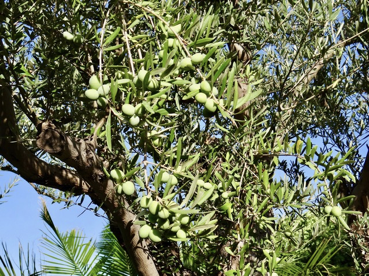 This is the view from the upstairs room where I write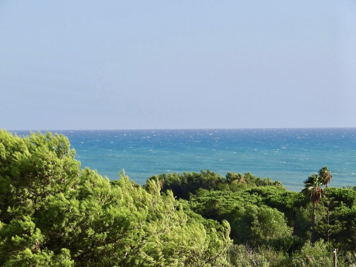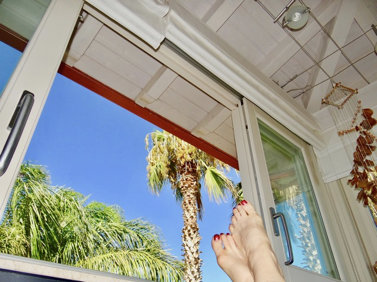 Each morning I'm up early, anticipating another spectacular dawn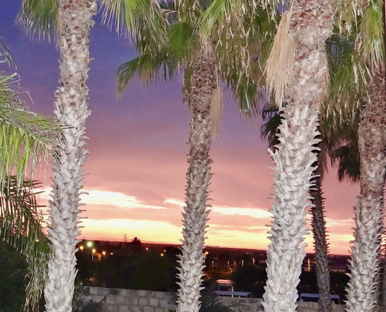 We've established our daily visits to Caffe' delle Rose for cappuccino, granita and brioche. The servers and the owner recognized us with a warm 
welcome
And I've learned how to order mignon's which are tiny cream puffs stuffed with all sorts of good things—this one is chocolate—and is easier on the waist line than the brioche and/or cornetto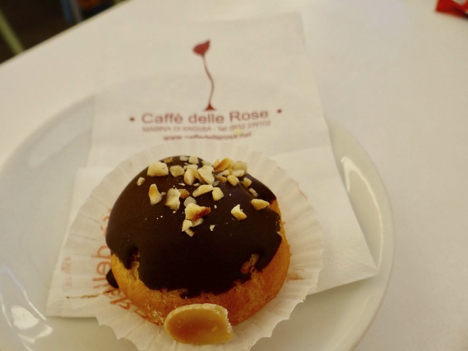 Our first night required a visit to our favorite pizzeria (The Pantheon) where we were also recognized and where two pizzas cost 10 euros—now that's a deal and they are made in front of our eyes and pulled blistering from the wood-burning oven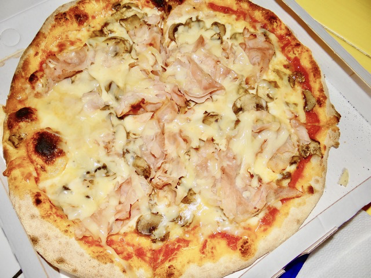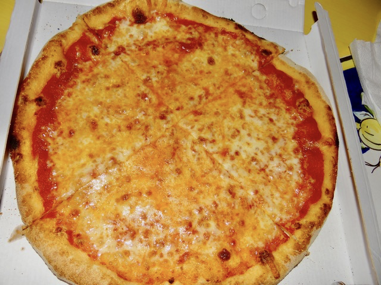 We had lunch at our favorite beach side restaurant (Lido Azzurro 1953 da Serafino Beach Club). The manager recognized us and welcomed us back.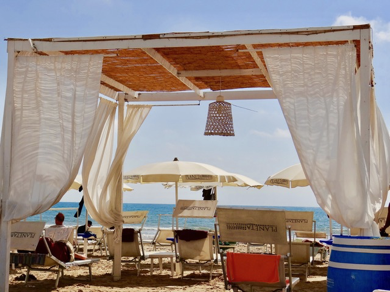 Ray had his favorite pasta alla vongole—pasta with clams but the photo didn't turn out. 
I had this scrumptious seafood salad.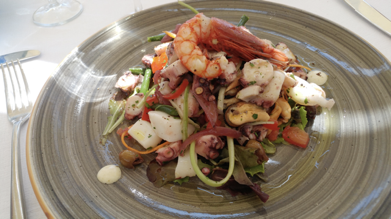 A couple of days later we ate there again with a fresh from the sea platter of raw and cooked seafood—sea urchins, caviar, oysters, raw tuna, squid, octopus, sardines and cuttle fish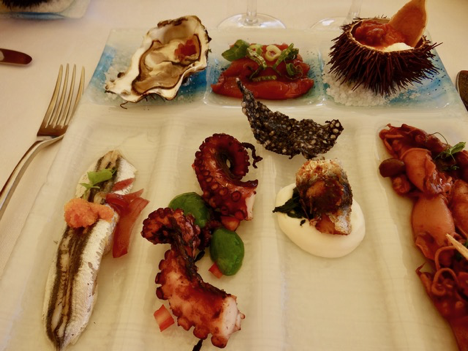 We ordered this delicious but light seafood plate because we had dessert in mind. For Ray cannoli with pistachio stuffing and pistachio ice cream. The best cannoli we've ever had was in Taormina but this was every bit as good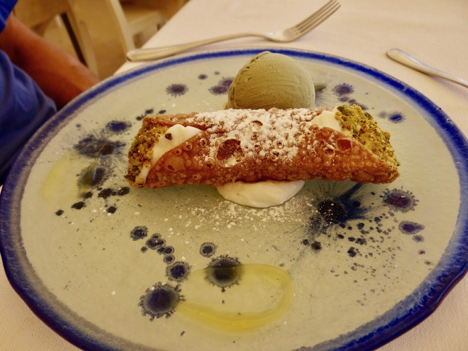 And for me tiramisu — WOW — I was not expecting this ball of chocolate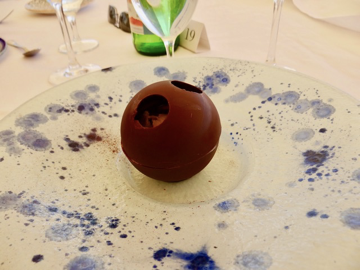 Wait for it—the surprise—oh my, it was the best tiramisu ever—crunchy cake in the bottom, ricotta cream, coffee gelato—all surrounded with the chocolate circle—guess how many times I'm going to order this?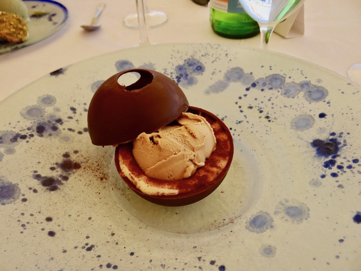 We've been to the grocery store and the market and our pantry is full. We prepare our evening meals and sit on the terrace with Padre Pio candles (the only candles we could find) with our dinner and wine, lazily watching the night descend in peace and solitude.
Fennel, tomato and onion salad
Veal Parmesan and pasta with spicy Arrabbiata sauce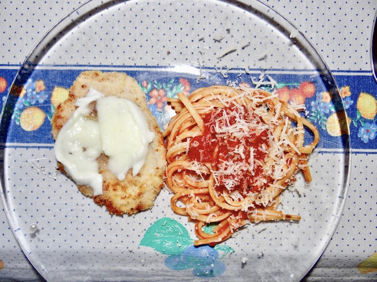 But for now, we delight in the setting of the sun—buonanotte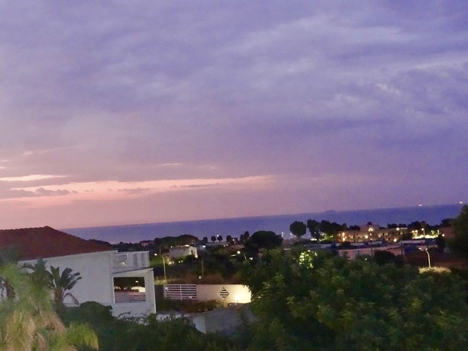 Do not stop thinking of life as an adventure. You have no security unless you can live bravely, excitingly, imaginatively, unless you can choose a challenge instead of a competence."   — Eleanor Roosevelt